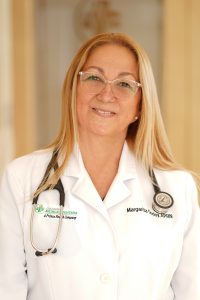 Margarita Godoy, APRN
My name is Margarita Godoy and I graduated from University of Havana, Cuba at the higher Institute of Medical Sciences of Doctor in Medicine in 1986.
I got my first degree specialty in Family Practice in the same University in 1993.
Started practicing medicine since 1986 in Havana, Cuba until 1996 that I moved with my family, my three daughters and my husband to USA.
I started working in the Medical Field in Palm Beach in 1997 for several years in different offices and I was studying at the same time to obtain my degree in USA.  I worked with infants and Children physicians and also with a Dermatology Group until 2015. Then I finally graduated from University of the Sacred Heart in San Juan, PR with the degree of Registered Nurse then I worked with VNA  for four years and I was studying at the same time to obtain my degree of Nurse Practitioner at Florida National University in Miami.
I started working as a Nurse practitioner at Columbia Medical Center with Primus Health in 2019 until 2022 then I was transferred to Forest Hill Medical Group with the same company in 2022.     
In addition to her career she enjoys the beach and spending time with her family.