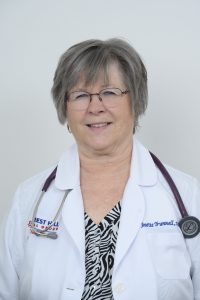 Paula Josette Trunnell, APRN
Josette is from the Pacific Northwest, receiving her undergraduate training at Washington State University and graduate degree from Gonzaga University in Spokane, Washington in 1995.  After graduation she established an independent practice in Eastern Washington State in Family  Practice and remained in that role until 2013..
In 2013, they relocated to Dallas, Texas so her daughter, Roxanne could pursue her equestrian goal of riding for the United States Equestrian Team.  After the 2016 Olympic games in Rio, they relocated to Wellington, Florida in preparation for the Tokyo Olympics. 
After her move from Washington, Josette transitioned to Interventional Pain Management.  In Early 2022 realized that her first love was primary care and began the process of transitioning back into that role.  In 2023 joined Forest Hill Medical Group.  
In primary care, Josette believes that the patient and provider are equal partners, who work together to achieve good health, maintain and manage chronic illness, and prevent or treat illness.  This goal is best achieved through education.  When you understand why you are being asked to do something different, and the  reason is clearly understood, informed decision making is easier.  Team work can improve and help to achieve goals and as a result  better health and wellness can be accomplished. 
In her "off time", Josette is a "horse show mom".  She is also an avid quilter.  Sewing is a second passionate hobby, enjoying the challenge of working with leather making bags and other items.  But in all honesty it is the mastery of the various machines and perfecting the craft that is the alure.