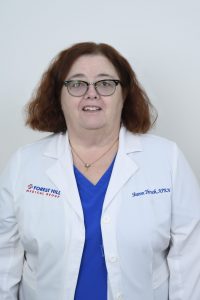 Sharon A. Thrush ARNP C-FNP
Sharon Thrush has been a Family Nurse Practitioner for over 25 years. Sharon received her Nursing degree from Mercy Hospital School of Nursing in Pittsburgh. She started her nursing career as a Staff Nurse and manager of the Trauma ICU/Burn Unit at Mercy Hospital. Sharon then found her calling as a Family Nurse Practitioner. She continued to work in Pittsburgh until moving to Florida in 1999.
Sharon has immeasurable experience caring for people of all ages. She has held adjunct and visiting faculty positions at Florida Atlantic University and Chamberlain University in Chicago.
Sharon likes gardening in her free time. She teaches for Chamberlain University in Chicago. She teaches Pediatrics and women's Health and Population Epidemiology.